Bitcoinist Senior Analyst, FilbFilb, believes that the basic rule of supply and demand will prevent Bitcoin from dropping to a new 2019 low.
FUD to Drive Bitcoin to a New Bottom?
Bitcoin's most recent price action has presented a plethora of challenges to cryptocurrency traders, and the drop below $10,000 has the most bearish traders calling for Bitcoin to revisit the $5,000 – $7,500 range. While theories abound, a popular explanation is fear spun up by Facebook's Libra hearing with the U.S. Senate Banking Committee combined with bearish technical factors are pushing Bitcoin price lower. 
Renowned crypto-analyst FilbFilb recently posted a detailed Twitter thread wherein he makes an argument for why BTC price will not come anywhere near to its previous bottom of $3,120. According to FilbFilb and Satoshi Nakamoto, Bitcoin price will stay above the cost of mining as miners must remain profitable. 
…the price of any commodity tends to gravitate toward the production cost." 
Supply & Demand
Essentially, the basic rules of supply and demand will dictate Bitcoin price and in January analysts at JP Morgan Chase found that the extraction cost of mining a single bitcoin averaged $4,060 in Q4, 2018. Comparing this average against the current Bitcoin price shows that miners are still bagging a profit of about $5,500 per Bitcoin.
FilbFilb suggests that miners will sell into market demand whenever the revenue per BTC rises above mining costs but will also "limit selling [as Bitcoin's] pre-halving event approaches to invoke the new halving bubble". 
FilbFilb elaborated by saying: 
What happened in 2018 was miners selling off their Bitcoins at marginal costs. Only the most efficient miners survived, while their inefficient competitors got eliminated."
FilbFilb is of the opinion that miners are now holding on to their newly minted bitcoins in anticipation of the 2020 halving event. If history is a guide, then we should see miners begin to limit sales as they wait for prices to explode on the approach of the halving event, then sell as selling pressure begins to diminish.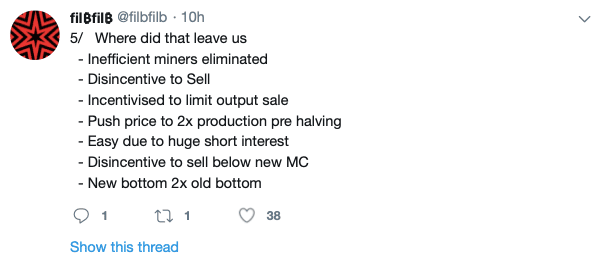 Bitcoin vs the Government
Bitcoin's most recent precipitous drop and FilbFilb's commentary come after a two day US Senate Banking Committee meeting with Facebook to discuss the intricacies of their Libra project. Bitcoin price could also be influenced by recent comments from US President Donald Trump, Treasury Secretary Steven Mnuchin, and Federal Reserve Chairman Jerome Powell.
Each cautioned the public and regulators about the potential for cryptocurrency to facilitate organized criminal and terrorist activity. Mnuchin even went so far as to label cryptocurrency "a national security threat." It's possible that BTC buyers have taken a pause over fears that the Trump administration could levy some sort of partial ban or stringent regulation on the growing crypto sector. 
In the long-run, the current pullback is probably nothing more than a mere temporary blip and the majority of BTC investors maintain a bullish view for the sector. One must remember that institutional investors like Fidelity Investments, TD Ameritrade, E*Trade and the Intercontinental Exchange have all openly stated their intentions to provide institutional and eventually retail digital asset services to clients. 
Source: Bitcoin Price Will Not Hit New Lows, Says Leading Crypto Analyst